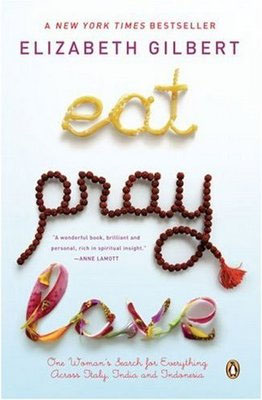 I really didn't expect to like Eat, Pray, Love. In fact, since its publication in 2006, I'd been avoiding it like the plague. "Typical new-agey, Oprah-y, girly-book," I thought. Nothing in it to speak to me.
Then I saw the trailer for the movie, and I was hooked –- probably because I, like mostly everyone, love Julia Roberts. I immediately downloaded the book on my iPhone using the Kindle App and began to read.
First, let me say that Elizabeth Gilbert writes exceptionally well, and the book is actually a joy to read. I, of course, loved the Italy eating part. But more surprising to me, I wasn't turned off by the whole yoga, Guru, find-yourself stuff. This is because Gilbert writes it all with a reporter's curiosity and a skeptic's eye, and frames it not as a belief system, but as a tool for self-discovery and peace. (Plus, I'm really good at skimming if I get bored.)
Too bad Gilbert's curiosity and skepticism does not extend to the healthcare she receives while in Bali. She accepts the curative powers of a warm leaf placed on an oozing, infected cut without even wondering what leaf it might be or how it might have worked. Was it the heat (most likely) or something else (possibly)? I was dying to know.
She Xeroxes pages and pages of traditional medical treatments without sharing a single one with us in any meaningful way. While I'm pretty sure 99 percent of what was in there was bunk, there might be a few gems that would serve medical science. Unless Lizzie made a second copy, we'll never know, will we?
But it was the UTI that really got to me. Read more »
*This blog post was originally published at tbtam*