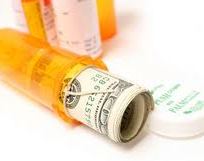 The top five therapeutic classes ranked by total expense are metabolic, central nervous system, cardiovascular, gastrointestinal, and psychotherapeutic, altogether totaling $155.7 billion, or two-thirds of prescription drug expenses by U.S. adults in 2008.
Two-thirds of American adults use a prescription drug, totaling the $232.6 billion in expenses. The Agency for Healthcare Research and Quality compiled a statistical brief showing that drug classes varied widely in how they made the top five list. While 46 percent of adults with a prescribed drug expense bought a central nervous system agent, they are relatively cheaper on average. Gastrointestinal agents had the highest average expense per prescription ($133), or more than three times the average expense of the cheapest class, which was cardiovascular agents ($39). But 46 percent of adults who take a prescription drug use a central nervous system agent, while 17.7 percent take a gastroenterological one.
Metabolic agents had the highest total expenses ($52.2 billion), or more than one-fifth of all prescription drug expenses. The rest of the list by total expenditures were central nervous system agents ($35.1 billion), cardiovascular agents ($28.6 billion), gastrointestinal agents ($20.2 billion), and psychotherapeutic agents ($19.6 billion).
The estimates presented are derived from the Household and Pharmacy Components of the 2008 Medical Expenditure Panel Survey (MEPS). Expenditures include payments from all sources including out of pocket, private and public insurance sources for outpatient prescription drug purchases during 2008. Over-the-counter medicines are excluded, as are prescription medicines administered in an inpatient setting, clinic, or physician's office.
*This blog post was originally published at ACP Internist*