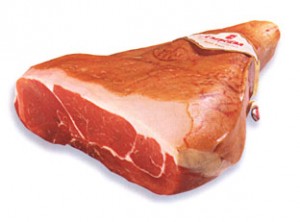 A friend of mine had a bad reaction to a heart medicine, dropping her blood pressure to as low as 76/49 as a result. She was feeling understandably dizzy but didn't want to go to the ER so she asked me if there was anything she could do at home to help raise her blood pressure. I recommended that she drink a large volume of water and take some salt tablets. She had no salt in pill form, and didn't want to take it straight out of the shaker so asked if there was any other way to get the salt in. I asked her to describe the contents of her refrigerator and pantry, and made a mental note of what I thought had the highest salt content.
My friend thought that potato chips might do the trick, and was surprised when I told her that she had something almost ten times saltier at her disposal. Four ounces of prosciutto contained almost 2g of sodium, an entire day's worth of salt! So she dutifully consumed the sliced meat, washing it down with about a liter of water. Two hours later she was back up to 98/66 and six hours later her blood pressure had returned to a healthy 116/83.
This was a rare case where a "high salt diet" had its benefits. In the case of ham versus hypotension, ham won… and saved my friend a costly, and unnecessary ER visit. Let's hear it for deli meat!