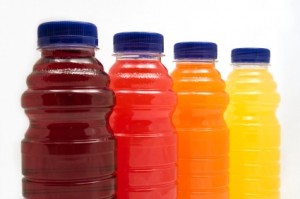 This year's finalists for the Boys & Girls Clubs' Fit Family Challenge are about to be announced. I've had the privilege of acting as nutrition coach for the semi-finalist families, and have had fantastic interactions with them about common nutrition questions. In my continuing Q&A series, I thought I'd share some of our email conversations:
Q: How many calories do I need per day, and how many should I eat to lose weight?
I like to use this Mayo Clinic calculator to get a rough estimate of daily caloric needs.   If you enter your height, weight, age, and activity level it will tell you approximately how many calories/day you need to maintain your weight. To lose one pound a week, you need to subtract 500 calories/day from that number. So, for example if the calculator suggests that you need 2000 calories/day – you should follow a 1500 calorie/day diet to lose 1 pound a week. Studies have shown that people who drop more than 500 calories below their daily maintenance needs have a hard time sticking to their diet. You may feel weak, trembly, and irritable if you cut down too low too fast. You will have to play with the amount a little bit since the calculator is not exact – if you don't see the scale moving when you cut out 500/day, then you have to wonder if you're counting calories correctly or perhaps if you have to go a little bit lower still. Unfortunately, the "reward" for losing weight is that you have to permanently eat less when you are at your desired goal because there is less of you to feed!
Q: What do you think about sports drinks? Do my kids need them when running races?
As far as sports drinks are concerned, their benefits are often over-hyped and exaggerated. That being said, I believe they do have a role in hydration during endurance sports like long distance running. When you do strenuous exercise for long periods of time (over 1 hour of effort) you lose a lot of body salt and minerals (electrolytes) in your sweat. It's important to replace certain key electrolytes so your body doesn't become depleted and begin to cramp. This is more likely to happen to folks running very long distances, such as marathons and triathlons. However, if it's hot during your race, you could be at risk for dehydration and electrolyte loss as well.
Regular Gatorade (made by Pepsi Co.) has water, sugar, sodium, and potassium in it. Powerade (made by Coca Cola) has water, sugar, sodium, potassium and B vitamins. Powerade has a little bit higher sugar concentration, which could be an advantage on a long run. Both are reasonable choices for hydration during a race.
The rough rule of thumb is to take in 6-12 oz of fluid for every 20 minutes of running. Water is sufficient for runs that last less than an hour. Sports drinks (or adding electrolyte gels/chomps to water) are helpful if your run will last longer than an hour. It's better to sip the water slowly at regular intervals than to dry to gulp it all down at one time. You may feel nauseated or have a "sloshy stomach" feeling if you don't spread out your hydration.
Sports drinks can be quite expensive – and you can easily create your own at home. The World Health Organization has a simple recipe for rehydration fluids, and I found this (probably slightly tastier) version on a blog site.
Outside of endurance sports, I don't see a physiologic need for sports drinks (with the exception of extreme sweating in hot weather or during illness with vomiting and diarrhea) – they can add unnecessary calories to your diet.
Q: Should I cut down the amount of salt in my diet?
Not necessarily. Too little salt, as well as too much salt, have both been shown to be unhealthy. If you're eating a lot of fast food, you're probably getting too much salt. If you cook for yourself and focus on fruits and veggies, whole grains, and lean protein you may not need to cut back. Unless you have a kidney problem or very high blood pressure, salt is generally not dangerous for you. About 2.5g of salt/day (roughly a teaspoon full) is optimal, but for most people up to 4g/day probably won't hurt (and at least one study suggests that heart disease risk doesn't increase until the daily intake of salt exceeds 7g/day).