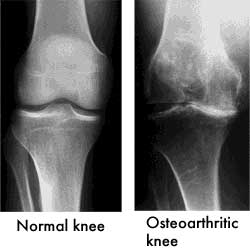 Wear and tear on the knee joints creates pain for up to 40% of Americans over age 45. There are plenty of over-the-counter (OTC) and prescription (Rx) osteoarthritis treatments available, but how effective are they relative to one another? A new meta-analysis published by the Annals of Internal Medicine may shed some light on this important question. After 3 months of the following treatments, here is how they compared to one another in terms of power to reduce pain, starting with strongest first:
#1. Knee injection with gel (Rx hyaluronic acid)
#2. Knee injection with steroid (Rx corticosteroid)
#3. Diclofenac (Voltaren – Rx oral NSAID)
#4. Ibuprofen (Motrin – OTC oral NSAID)
#5. Naproxen (Alleve – OTC oral NSAID)
#6. Celecoxib (Celebrex – Rx NSAID)
#7. Knee injection with saline solution (placebo injection)
#8. Acetaminophen (Tylenol – OTC Synthetic nonopiate derivative of p-aminophenol)
#9. Oral placebo (Sugar Pill)
I found this rank order list interesting for a few reasons. First of all, acetaminophen and celecoxib appear to be less effective than I had believed. Second, placebos may be demonstrably more effective the more invasive they are (injecting saline into the knee works better than acetaminophen, and significantly better than sugar pills). Third, injection of a cushion gel fluid is surprisingly effective, especially since its mechanism of action has little to do with direct reduction of inflammation (the cornerstone of most arthritis therapies). Perhaps mechanical treatments for pain have been underutilized? And finally, first line therapy with acetaminophen is not clinically superior to placebo.
There are several caveats to this information, of course. First of all, arthritis pain treatments must be customized to the individual and their unique tolerances and risk profiles. Mild pain need not be treated with medicines that carry higher risks (such as joint infection or gastrointestinal bleeding), and advanced arthritis sufferers may benefit from "jumping the line" and starting with stronger medicines. The study is limited in that treatments were only compared over a 3 month trial period, and we cannot be certain that the patient populations were substantially similar as the comparative effectiveness was calculated.
That being said, this study will influence my practice. I will likely lean towards recommending more effective therapies with my future patients, including careful consideration of injections and diclofenac for moderate to severe OA, and ibuprofen/naproxen for mild to moderate OA, while shying away from celecoxib and acetaminophen altogether. And as we already know, glucosamine and chondroitin have been convincingly shown to be no better than placebo, so save your money on those pills. The racket is expected to blossom into a $20 billion dollar industry by 2020 if we don't curb our appetite for expensive placebos.
In conclusion, the elephant in the room is that weight loss and exercise are still the very best treatments for knee osteoarthritis. Check out the American Academy of Orthopedic Surgery's recent list of evidence-based recommendations for the treatment of knee arthritis for more information about the full spectrum of treatment options.