2 Comments »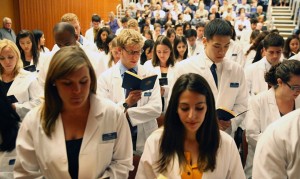 I have been an outspoken, and often times exasperated, patient advocate and student of healthcare reform. There is no doubt that the U.S. healthcare system is operating far below its potential in terms of efficiency, effectiveness, and affordability. In fact, an entire industry of policy wonks and consultants have sprung up in both the public and private sectors – all with recommendations about how to "fix" our system. In my opinion, the most insightful suggestions will come from those who are currently doing the work of healthcare (i.e. clinicians) and change will be adopted and promoted most fervently by the young and freshly minted among them.
Medical students, residents, and physicians newly in practice now have a place to voice their opinions – The American Resident Project is an ambitious movement to promote fresh thinking from tomorrow's physician-leaders. I am pleased to be supporting this effort here on my blog and in face-to-face meetings with fellows at medical centers across the country. I hope you'll bookmark the website and join in the community conversation about how to innovate  in the midst of a broken system. This is more than a think-tank for change – the ideas and opinions of young doctors may be our best hope for a brighter tomorrow.
Stay tuned for some fresh ideas in the setting of some healthy talk therapy!