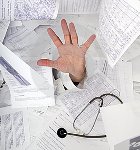 It was sometime in the mid-nineties that parents started showing up in my office with reams of paper. Inkjet printouts of independently unearthed information pulled from AltaVista and Excite. Google didn't exist. In the earliest days of the Web, information was occasionally leveraged by families as a type of newfound control.
A young father and his inkjet printer
One case sticks clearly in my mind. It was that of a toddler with medically unresponsive acid reflux and chronic lung disease. After following the child for some time, the discussion with the family finally moved to the option of a fundoplication (anti-reflux surgery). On a follow-up visit the father had done his diligence and appeared in the office with a banker box brimming with printed information. He had done his homework and his volume of paper was a credible show of force.
At the time in Houston, the Nissen and Thal fundoplication were the accepted fundoplication procedures in children. Deep from the bottom of one of the boxes, the father produced a freshly-reported method of fundoplication from Germany. He had compared the potential complications with other types of fundoplication and this was the procedure he wanted.
What he didn't understand was that an experimental technique used on a limited numbers of adults didn't necessarily represent the best option for his toddler. I gave it everything I had but didn't get very far. The tenor of his argument was slightly antagonistic. Ultimately there was nothing more I could do. I deferred the remainder of the discussion to one of our best "talking" surgeons, but knew the father wouldn't get the time and consideration that I had offered.
I never saw the child again. As they say, the father voted with his feet. Read more »
*This blog post was originally published at 33 Charts*