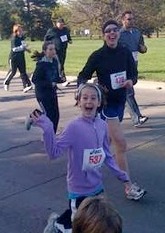 Kids are like dogs — you can train them until they're too old to train. Then they're going to do whatever they want.
The key to getting kids to exercise is to make it fun for them. But they aren't going to exercise if it isn't made a part of their normal routine. It's up to adults to train them.
Mrs. Happy and I had the joyous opportunity of inviting our 10-year-old niece to her first-ever running event. She had never ever run in a race before. We did the two-mile race and she loved it. And amazingly, she finished without stopping — not even once.
Our nation is raising a nation of fat and lazy kids because we're lazy adults. We drive everywhere. We sit at our desks. We get food on the run. We watch a lot of television. We surf the Net a bunch. And we have stopped moving. We have literally stopped moving. Read more »
*This blog post was originally published at The Happy Hospitalist*