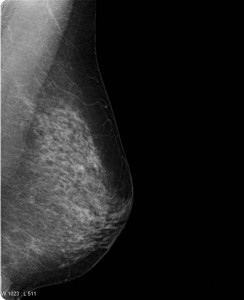 A recent mammogram study in the New England Journal of Medicine was so controversial that the authors (Drs. Welch and Bleyer) decided to make a YouTube video to defend and explain their conclusions. Now that's a first, isn't it? Well kudos to the study authors for their creative approach to getting ahead of a controversy. However, their video (created for the "general public") is still a bit too technical in my opinion. I'd like to take a crack at distilling it further.
A question on most women's minds (as they turn 40 and beyond) is whether or not they should get a screening mammogram (x-ray of the breasts). If you have found a lump in your breast or you have a family history of breast cancer the answer is yes. No need to read any further. However, for the majority of us lumpless, family-history-free women, a screening mammogram is far more likely to expose us to unnecessary follow up testing than it is to catch a tumor early.  Dr. Welch explains that screening mammograms aren't very good at identifying aggressive breast cancer early enough to make a difference in whether one lives or dies anyway. That's very disappointing news.
Dr. Welch goes on to explain that most of the gains we've made in breast cancer survival have been because of improved breast cancer treatments, not because of early detection with mammograms. He estimates that every year in the U.S. 1.3 million women are "over-diagnosed" with breast cancer because of screening mammograms, subjecting women to unnecessary biopsies, surgical procedures, and further follow up studies. In the video, Dr. Welch doesn't explain exactly what these "over diagnosed" cancers end up being exactly (Cysts? Benign calcifications? Early non-aggressive cancers that the immune system kills on its own?) But suffice it to say that they don't contribute to the cancer death rates.
So, given the fact that you are more likely to suffer through a false alarm than to discover a cancer early (and even if you do find it early, if it's the "bad" kind you may not survive) are you willing to undergo a screening mammogram? That's a personal question that we each have to answer for ourselves. As time goes on, however, I suspect that the answer will be made for us since health insurance companies (whether public or private) will begin to balk at paying for tests that do more harm than good overall. I think this issue is really at the heart of the controversy (the perception of rolling back a health benefit that women currently "enjoy"). Eventually screening mammograms may become an out-of-pocket expense for women who simply prefer the peace of mind that a normal test can give – even at the risk of going through a false alarm.
That being said, it sure would be great if we could find a screening test that identifies breast cancer early – especially the aggressive kind. Perhaps a blood test will do the trick one day? At least it is comforting to know that we have made great strides on the treatment side, so that fewer women than ever before die of breast cancer. More research is needed on both the screening and treatment sides of course.
As for me, I do regular breast self exams – though because I have no family history of breast cancer I've opted out of screening mammograms because I feel the cost/benefit ratio is not in my favor. I certainly hope that a better screening test is developed before I face a potential diagnosis. I respect that other women will disagree with me – and I think they have the right to be screened with the only option we currently have: the mammogram. I'm not sure how long it will continue to be covered by insurance, but at a price point of about $100, most of us could still afford to pay for it out-of-pocket if desired.
The bottom line of this controversial research study is that screening mammograms don't actually catch death-causing breast cancers early enough to alter their course. Even though it makes intuitive sense to be screened, long term observations confirm that overall, mammograms do more harm than good. So now we wait for a better test – while some of us continue with the old one (as the National Cancer Institute recommends), and others (like me) don't bother.
***
Thanks to ePatient Dave and Susannah Fox who brought the issue to my attention on Facebook. Isn't social media grand?