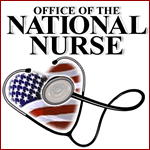 To the American Nurses Association,
I am a member of the American Nurses Association (ANA) and a dedicated supporter of HR 4601 The National Nurse Act. For the life of me, I cannot understand ANA's reluctance to endorse the National Nurse Act. The infrastructure already exists, in fact the position already exists. The Act seeks to have the Chief Nursing Officer of the U.S. Public Health Service designated as the National Nurse.
There is nothing political about this –- the nominating procedure for the position does not change. It is not a presidential appointment, nor is it a Cabinet position. And it costs nothing to implement -– it's already funded. It takes no resources away from other nursing initiatives and competes with no other nursing organization. But more importantly, it gives the public a visible nurse leader as our healthcare delivery system transitions to one that focuses on health and the prevention of disease.
And yet, the ANA doesn't endorse the Chief Nurse Officer of the U.S. Public Health Service being known as the National Nurse. Why? Read more »
*This blog post was originally published at Emergiblog*