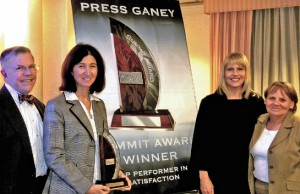 One would think that happiness and healing are inextricably linked in healthcare, but the Happy Hospitalist (HH) raises an interesting question: is modern medicine's emphasis on patient satisfaction (and shared decision-making) sacrificing our quality of care? A recent study found that patients who preferred their physicians to take the lead in their medical decision-making had shorter, less costly hospital stays.
HH argues that if physicians are expected to perform like airline pilots, reliably choosing/performing the best course of action for those depending on them, then patients should behave like passengers. In other words, passengers don't tell the pilot how to fly the plane, nor should patients override a physician's clinical judgment with personal preferences.
I think this analogy misses the mark because patients are rarely interested in making decisions about how a physician accomplishes her task, but rather which tasks she undertakes. Flight passengers aren't interested in quibbling about the timing of landing gear, they are interested in the selection of their destination city. And so they should be.
While there may be a correlation between physician-led decision-making and shorter hospital stays, I'm not convinced that this translates to improved care quality. For the study subjects, discharge could have been delayed because the "empowered" patients insisted on ensuring that a home care plan was in place before they left the hospital. Or perhaps they wanted to get their prescriptions filled before going home (knowing that they couldn't get to their home pharmacy over the weekend)? The study did not assess whether or not the discharge delays reduced readmission rates, nor did it seek to determine the cause of prolonged stays. This study alone is insufficient to draw any conclusions about the relative value of the patient empowerment movement on health outcomes.
While I certainly empathize with HH about the excessive focus on patient satisfaction surveys over true quality care, I strongly believe that an educated, participatory patient is our best ally in the practice of good medicine. There are simply too many cogs and wheels turning at once in the healthcare system to be able to ensure that the right care is provided at the right time, every time. We need all the help we can get to monitor our care plans in order to avoid medical errors, compliance problems and missed opportunities.
If you see something, say something. That principle applies to healthcare as much as it does to flight safety.