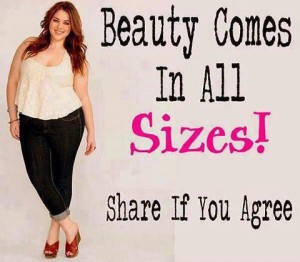 It is estimated that 44% of Americans will be obese by the year 2030. The AMA warns that increasing obesity rates will lead "to millions of additional cases of type 2 diabetes, stroke and coronary heart disease, as well as arthritis and hypertension. Billions of dollars will be wasted through lost economic productivity and skyrocketing medical costs."
And yet, a funny thing is happening in consumer land – efforts to normalize obesity are gaining momentum via social media platforms. Take the "beauty comes in all sizes" ad for example. This was shared with me by an old grade school friend on Facebook. And while I can appreciate the sentiment that women of various genetic predispositions are beautiful, I stopped short at the idea that obesity itself was attractive. There is a growing movement among obese men and women to promote acceptance of their size, and if they win this argument they could substantially undermine efforts to help Americans become healthy and avoid disease. I know this sounds harsh, but to me, promoting beauty of all sizes – when that includes obesity- is tantamount to promoting a "smoking is cool" campaign.
Smoking rates in the United States have dropped from 42.4% in 1965 to 19% in 2010. Although one-in-five people still smoke, we have successfully reduced the smoking burden by more than half. The reasons for this reduction are complex, but they include public awareness campaigns regarding the harmfulness of cigarette smoking, increasing taxes on cigarettes, and public policy regarding where and when people can smoke in public.
The same exact approach can't work for obesity because while people can simply quit smoking, we can't quit eating. And what we eat is less important than how much we eat. I personally do not favor "fat taxes" on specific food items because almost any food could cause weight gain if consumed in large enough quantities. I also don't favor singling out obese people for portion reduction at restaurants (this has actually been proposed), or other policies that are similar to what we've done with smoking in public spaces. Promoting prejudice against the obese is not constructive.
So that leaves us with public perception/education and peer pressure as our primary national strategy for reducing obesity rates.  (Of course smaller initiatives can help: employers can incentivize weight loss and wellness, policy makers can encourage new housing developments that promote active lifestyles, and local groups and non-profits can promote fitness initiatives and healthy eating behaviors.)
My concern is that if too many people decide that normalizing obesity is better than fighting it, America will lose this battle. Obesity-related disease is already costing us about twice as much as smoking-related illnesses. And both smoking and obesity are nearly 100% avoidable.
Obesity is not beautiful, and we must redouble our efforts to win the hearts and minds of the public on this subject without resorting to the other extreme (idolizing anorexia). Good health lies somewhere in the middle – and keeping our middles within a reasonable range is the most important health goal we have.