What awaits some physicians who decide to quit medicine: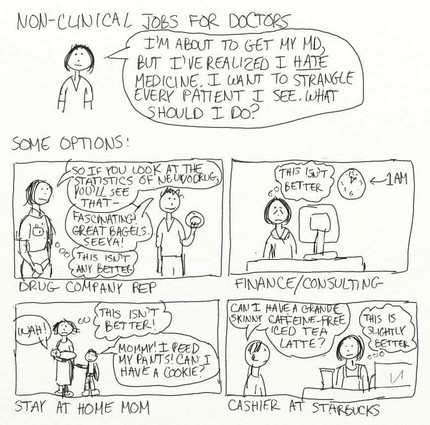 Source: A Cartoon Guide to Becoming a Doctor
*This blog post was originally published at KevinMD.com*

There is discontent in the house of medicine. So many physicians struggle. They seem to wade through uncertainty every day — uncertain about diagnoses, about pain, about disposition. We find ourselves uncertain about our jobs, our futures, our finances.
The consultants we call are uncertain about their practices and whether they can remain viable in the coming years as medicine evolves into something we may find unrecognizable.
Some days, as I enter my 17th year of practice, I don't know if I can bear to walk around our little department for 10 or 20 more years, like some gerbil on an exercise wheel. I am uncertain if I can bear the weight of more entitlements, more confabulated stories, more regulations, and manufactured drama. I wonder if I can endure decades more of circadian assaults on my brain. Read more »
*This blog post was originally published at edwinleap.com*