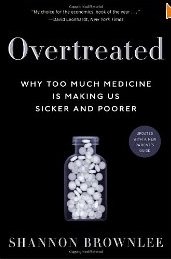 My daughter, Elana, home from college on winter break, offered me a book to peruse from one of her classes. She correctly suspected that her father, the MD Whistleblower, would enjoy reading a book authored by a whistleblower pro.
The book, "Overtreated: Why Too Much Medicine Is Making Us Sicker and Poorer" by Shannon Brownlee should be required reading for first year medical students, who have not yet acquired views and habits that promulgate excessive medical care and treatment. For those of us already in practice, this book should be a required element of board recertification.
Brownlee understands the medical system well and describes a culture of excess, conflicts of interests, absence of universal quality control mechanisms and fractured and disorganized care with no one in charge of a particular patient. She presents some chilling anecdotes of medical tragedies that have occurred at our most prestigious medical institutions. And she introduces us to reform leaders who understand the system's inherent deficiencies and their proposals to remedy them.
Brownlee states that explanations for waste in the healthcare system include:
Cost of a gargantuan bureaucracy
Medical malpractice fear and defensive medicine
Incentives for patients with medical insurance to overutilize care
Rising medical costs
The most important cause, she argues, is unnecessary medical care, which costs the nations hundreds of billions of dollars and exposes patients to the risk of harm from medical complications. She writes, "If overtreatment were a disease, there would be a patient advocacy group out there raising money for a cure." Read more »
*This blog post was originally published at MD Whistleblower*