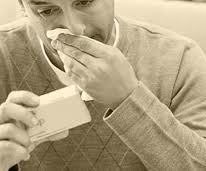 For the last week I have had a cold. I usually get one each winter. I have two kids in school and they bring home a lot of viruses. I also work in a hospital, which tends (for some reason) to have lots of sick people. Although this year I think I caught my cold while traveling.  I'm almost over it now, but it's certainly a miserable interlude to my normal routine.
One thing we can say for certain about the common cold — it's common. It is therefore no surprise that there are lots of cold remedies, folk remedies, pharmaceuticals, and "alternative" treatments. Finding a "cure for the common cold" has also become a journalistic cliche — reporters will jump on any chance to claim that some new research may one day lead to a cure for the common cold. Just about any research into viruses, no matter how basic or preliminary, seems to get tagged with this headline. (It's right up there with every fossil being a "missing link.")
But despite the commonality of the cold, the overall success of modern medicine, and the many attempts to treat or prevent the cold — there are very few treatments that are actually of any benefit. The only certain treatment is tincture of time. Most colds will get better on their own in about a week. This also creates the impression that any treatment works — no matter what you do, your symptoms are likely to improve. It is also very common to get a mild cold that lasts just a day or so. Many people my feel a cold "coming on" but then it never manifests. This is likely because there was already some partial immunity, so the infection was wiped out quickly by the immune system. But this can also create the impression that whatever treatment was taken at the onset of symptoms worked really well, and even prevented the cold altogether.
What Works
There is a short list of treatments that do seem to have some benefit. Nonsteroidal anti-inflammatory drugs (NSAIDs), like aspirin, ibuprofen, and naproxen, can reduce many of the symptoms of a cold — sore throat, inflamed mucosa, aches, and fever. Acetaminophen may help with the pain and fever, but it is not anti-inflammatory and so will not work as well. NSAIDs basically take the edge off, and may make it easier to sleep. Read more »
*This blog post was originally published at Science-Based Medicine*