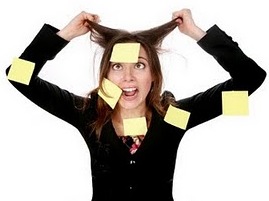 So I've been thinking a lot about stress lately.
Obviously, it's because I'm in one of those work/personal periods where the word comes in all capital letters and my dreams seem to be caught on a continual loop of taking-an-exam-in-a-class-I-forgot-to-attend-all-semester (and yes, I've been out of school for 26 years now)/realizing-I-just-bought-a-new-house-and-have-to-move/or, finding-that-I-have-10-stories-due-tomorrow (for the newspaper at which I haven't worked in years).
This latter dream comes closest to my own situation at the moment given that I find myself with just a wee bit too much work for the time allotted (ok, maybe a lot too much work). I'm coping — going to bed later, getting up earlier, reaching out to a couple of writer friends for help) but it nonetheless has my cortisol and norepinephrine hormone production on overtime.
Which brings me to the point of this blog. Your health on stress. Read more »
*This blog post was originally published at A Medical Writer's Musings on Medicine, Health Care, and the Writing Life*