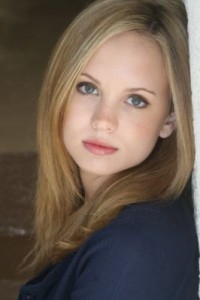 When I asked Meaghan Martin (star of Mean Girls 2, 10 Things I Hate About You and Camp Rock among others) what was the most difficult thing about being a teen these days, she didn't hesitate: "Being a teen has always been difficult, but today there are so many ways to be rejected. Between Facebook, Twitter, and other online sites, it seems as if every day there's a new way to be un-friended, excluded, or picked on."
I interviewed Meaghan about her perspectives on teen self-esteem issues and the impact that physical appearance can have on young men and women. You can listen to the edited interview here (starts at minute 12:02):
The most striking thing about Meaghan is that she is a genuinely nice person. Down-to-earth, confident, empathic – she exudes an inner peace that is downright wholesome. How did she escape her teen years relatively unscathed by hormonal angst, I wondered? The secret, she said, was loving parents.
"I was a typical nerd as a kid. I had glasses, braces, and an asthma inhaler. But I didn't care what others thought of me, because my parents told me that I was a good person who could do anything I wanted in life. They taught me self-confidence, and supported me 100% in anything I wanted to do. I was so blessed to have parents like that."
I chuckled as I remembered my pre-teen and teen years, sharing with Meaghan that I was a lot like her – except that I had traded the asthma inhaler for acne. For me, Read more »