No Comments »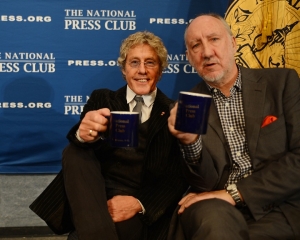 Rock superstars Roger Daltrey and Pete Townshend of "The Who" have a new cause: sparking a franchise of teen-oriented cancer treatment centers across America. To kick off the launch of Teen Cancer America, Daltrey & Townshend were featured at a conference held at the National Press Club in Washington, D.C. I was fortunate to be invited to sit at the head table next to teen cancer survivor Sarah Sterner – a bright and confident young woman from Atlanta who was cured of brain cancer two years ago.
Sarah told the crowd what it was like to be a fifteen-year-old in a pediatric oncology unit populated by ukulele-playing clowns and screaming infants. The extreme age-related disconnect between her pscho-social needs and that of younger kids and babies served to make her feel even more isolated during her course of treatment. She longed for the companionship of others like her, but without any national cancer centers focused on the special needs of teens, she was on her own.
Roger Daltrey became interested in teen cancer when his personal physician took up the cause in the U.K. and turned to him for support. Daltrey's decades of playing music to teen audiences made him keenly aware of their unique psycho-social needs. "When you're a teenager, it's horrifying if you have a spot on your nose. Imagine what it's like if you have cancer!" said Daltrey.
Teen Cancer America began as a movement called the Teen Cancer Trust in the U.K. According to Daltrey, preliminary research (comparing teens treated in a typical NHS cancer ward versus a unit sponsored by the Teen Cancer Trust) suggests that there may be as much as a 15% survival advantage in being treated in the special units. Daltrey attributes this to increased morale that helps teens and families find the will to fight through life-threatening treatments.
When asked how American cancer centers compare to those in the U.K. Daltrey immediately responded that he believed the U.S. centers were far superior. He described the incredible resources available at UCLA and Duke, and how the facilities themselves were unbelievably beautiful, sporting plant-filled atria, massive skylights, and high tech imaging and radiation equipment. Nonetheless, he noted, "Teens don't want to hang out in an atrium. There is just no place that appeals to teenagers at these centers."
Whether specialized teen cancer treatment environments in the U.S. will dramatically improve survival rates remains to be seen, but there's no doubt that recognizing the unique psycho-social needs of teenagers would be a boon for patients and families at pediatric cancer centers. Like post-traumatic stress disorder in military personnel, the psychological ravages of cancer may well be under recognized, especially in the teen and young adult populations.
Thank you Roger Daltry and Pete Townshend for bringing this to our attention.
***
Find out how to support Teen Cancer America here.
Check out The Who themed cookie from the press club event (delicious!):