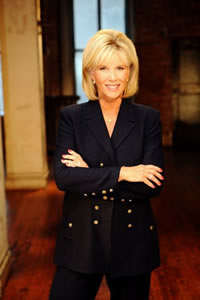 Joan Lunden
Former Good Morning America host, Joan Lunden, is getting behind the personal health record industry. As the daughter of a physician, Joan grew up believing that she'd become a doctor one day. She told me that all that came to a screeching halt when she "realized that she didn't like blood or stitches." But Joan has always kept women and children's health advocacy initiatives close to her heart.  She will soon be starring in a new Lifetime TV show called Health Corner. I caught up with her about her recent work with PassportMD.
Listen to the podcast here, or read a summary of our discussion below.
Dr. Val: Tell me about your experiences in taking care of your mom, and what led you to become involved with a PHR company.
Lunden: I lost my brother to type 2 diabetes a little over a year ago. As it happens, he had been managing my mom's medical care, and so with his loss I needed to step in and take it over. Of course she lives on one coast and I live on the other. I've got 4 little kids (two sets of twins) and three young adult children. It becomes really daunting to keep track of everyone's medical care. Around that time I met some folks from PassportMD, and when they showed me how easy it could be to keep everyone's records in one place, I said, "this is exactly what I need."
I think I'm really typical of a lot of women out there in what we call "the sandwich generation." Today a high percentage of women with small children are working outside of the home. It's really a lot to juggle – a career, raising a family, and getting everyone to the doctor on time – forget about getting YOU to the doctor on time. As good as we women are at nurturing others, we tend to be at the bottom of our own to-do lists.
What I really love about PassportMD is not just the organization (I can immediately see all my kids' vaccination schedules for example) but the fact that I'm building a family medical history. It's so important to know your family history so that you can engage in appropriate screening tests and take preventive health measures. This PHR even sends you reminders when its time for immunizations, mammograms, or other appropriate screening tests.
Dr. Val: As a doctor I've encountered resistance to PHRs from patients because they don't want to have to enter all the data themselves. They'd like it to be auto-populated with their medical record data so that they don't have to start from scratch. Has the PassportMD tool solved that problem?